Linking up

my tip of the day

with Linds

ey at Apple of Mama's Eye for: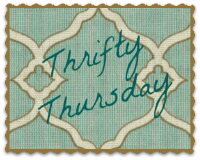 Today my tip is how to organize headband craziness! Both of my girls wear a headband just about every day. So as you can imagine we have quite the collection. I originally just decided a plastic shoe size box would be fine to keep them in.
This is what it has ended up looking like:
Pretty much a big ol mess! When they would go to pull one headband out, it would be tangled up with another headband. And searching for one certain headband would result in the whole box being dumped out. I decided we needed an easier, quicker and more organized way to grab the one headband they wanted to wear. So I took a couple of Archer's empty formula cans, some fabric (97cents/pack at Walmart), and some glue and got to work.
This is what I came up with:
I put all their big pony tail holders inside the cans





This was a fun & easy project. The girls enjoyed picking out the fabric and love their new handband organizers.
If you don't have any formula cans, you can use empty oatmeal canisters or something similar.
Find me on Facebook at My little smarties